"WHO ATE THE REST OF THE BROWNIES?"
Psssst…it doesn't have to be you!
It is time for you to break free from the never-ending roller coaster of dieting so you can be anxiety-free around food.
It's time to stop trying so hard so you can live the life you were meant to live.
It's time to look in the mirror and see the beautiful person you are.
Your Must-Have Guide to End the Diet Cycle will start you on the path to having more freedom around food.
It's perfect for you if you….
Feel like you're constantly battling your weight
Obsess over food all day, every day
Think you don't have the will-power to stop eating
Are terrified that if you don't control your eating, you'll gain 100 pounds
Keep promising yourself that tomorrow, you seriously will get back on track
Are tired of having to buy new clothes with constant weight loss and gain
This guide is available to you for FREE.
For instant access, enter your name and email address below.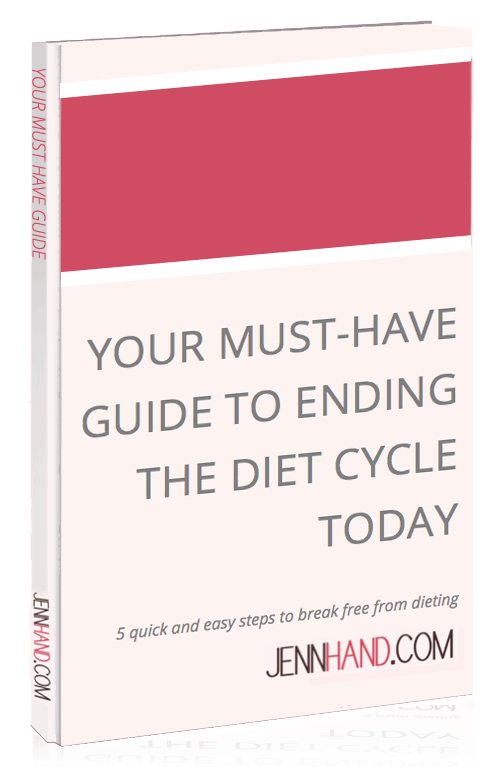 You'll also receive weekly inspiration every Wednesday in your inbox. You can unsubscribe at any time.
"This has been wonderful and eye-opening!" – Cristina, NY
"I needed this guide today. I was feeling defeated and frustrated. Thank you for sharing!" – Andrea, TN
"You're a life saver!" – Erin, IL
"Funny thing is I thought to myself "I'll try again on Monday " and then I ran into this guide. Thank you for this!" – Suzette AZ
"This was EXACTLY what I needed to read tonight. Thank you!" – Lisa, PA