Written by Jenn Hand, Holistic Nutritionist, Board Certified Health Coach, NBC-HWC
What Is a Health Coach?
According to the National Board of Health and Wellness Coaches, a health coach "supports clients in activating internal strengths and external resources to make sustainable and healthy lifestyle behavior changes."
Instead of just "telling you what to do", a health coach works with each person to guide them towards meeting their goals through sustainable behavior change and self-discovery.
Table of Contents:
What Can a Health Coach Do?
A health coach helps someone dig deep to explore what is keeping them stuck, how to overcome obstacles, and move towards lasting health changes. The support of a coach can be instrumental in creating consistency and changes in habits that you feel stuck in.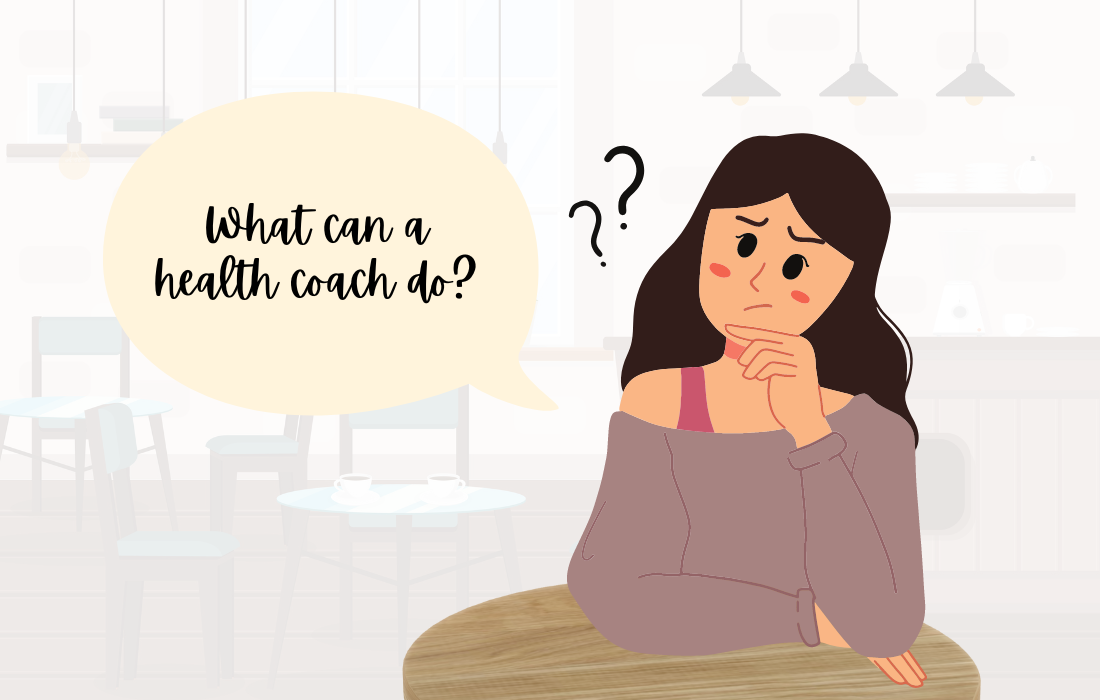 Health Coach vs. Wellness Coach vs. Holistic Nutritionist
There are some subtle differences between a coach and a nutritionist in the health world.
As described above, a health coach empowers a person to reach their goals via habit and behavioral change. A holistic nutritionist typically focuses on the food piece of health–deep diving into promoting natural foods, learning to eat in a nutritious way and helping someone work towards physical habit changes like sleep, food, exercise, etc.
I utilize both in my practice.
It can be helpful to dig into the food piece to look at what foods and habits serve (or don't serve) you, where the "sticking points" are during the day, and how emotions impact what you eat. There are times when it's helpful to talk about the food and other times it's more beneficial to dig into emotions, mental tapes/mindset, beliefs, self-sabotage, body image, and all of the other complex issues that are "underneath" the food!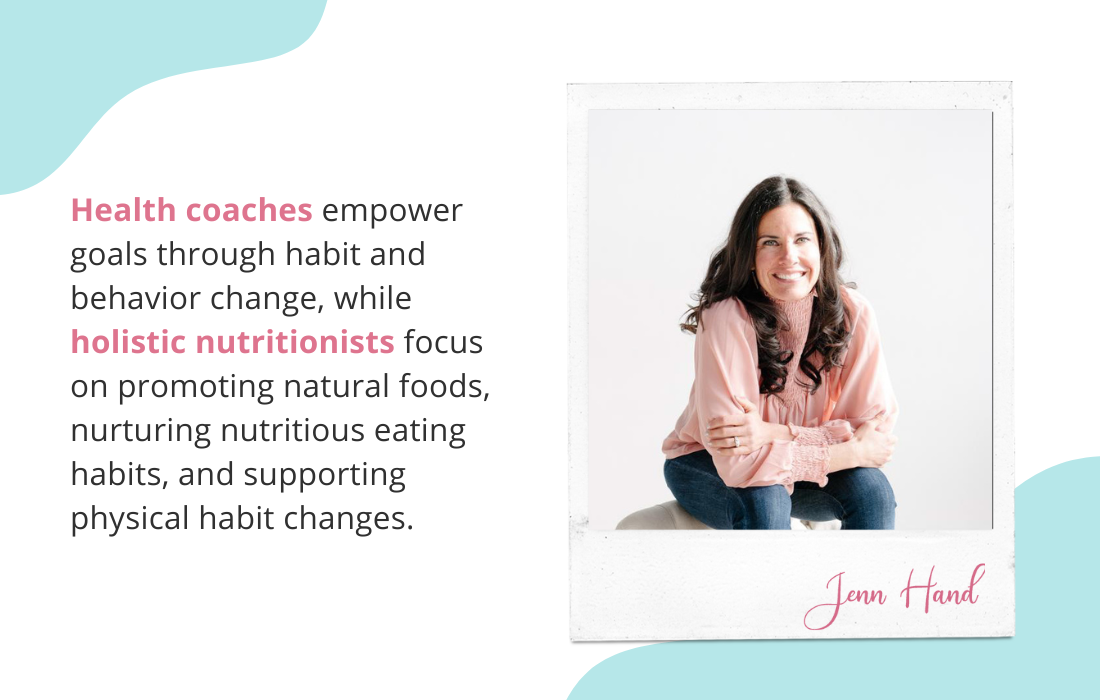 As a side note: "wellness coach" isn't really a thing.
Although many people online search for health and wellness coaches, there isn't any governing body for wellness coaches and no requirements for what it takes to become a wellness coach.
So if you're deciding who to work with, think about the outcomes that you're hoping to achieve, and then find a coach who specifically helps people achieve those outcomes. For example, I'm a certified health coach, but I also have specialized for over 10 years in helping women overcome emotional eating, binge eating, and yo-yo dieting.
I also help women who want to lose weight holistically without being on a restrictive diet.
So while I'm a health coach, I have a specialization that makes me a good fit for a specific type of client who really wants to see outcomes in a few important areas.
What about you? What outcomes are you looking for?
What is a Holistic Health Coach?
Each of us is complex.
How mindset affects how we eat. Our food choices impact our emotions. And our emotions impacts our food choices! We are physical, mental, emotional and spiritual beings and holistic health coaching takes the whole "you" into consideration during the process of healing.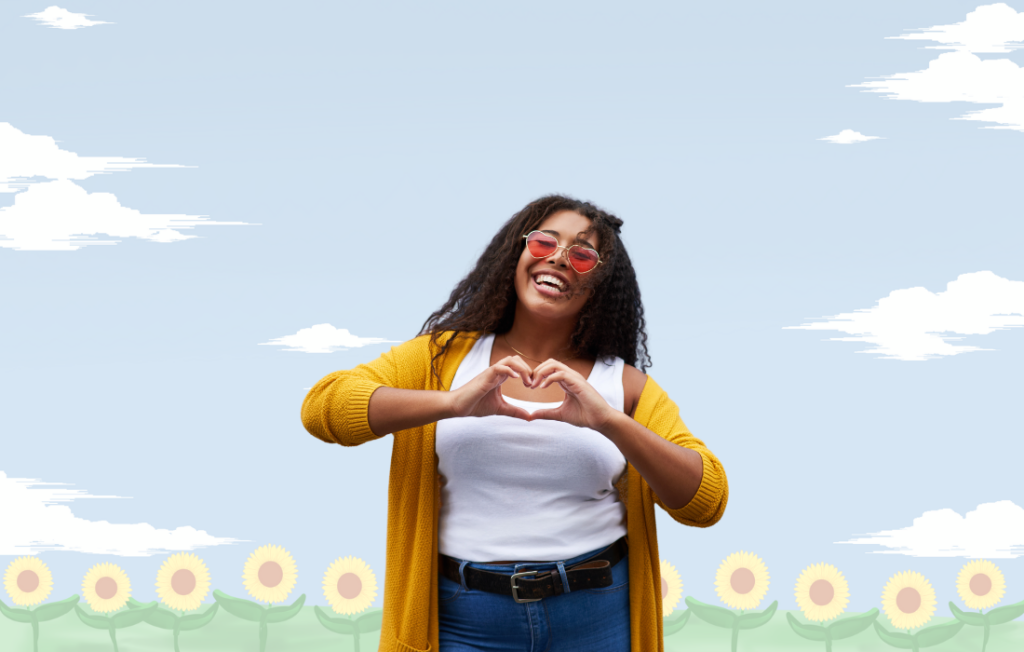 Finding a Local Health Coach vs Online Coach
Many employers are now offering health coaching as part of their employee wellness programs.
You may find a local coach to meet in person with. To find someone online, I'd recommend searching for a topic you struggle with, finding a blog or podcast, and getting a feel for what kind of style someone has.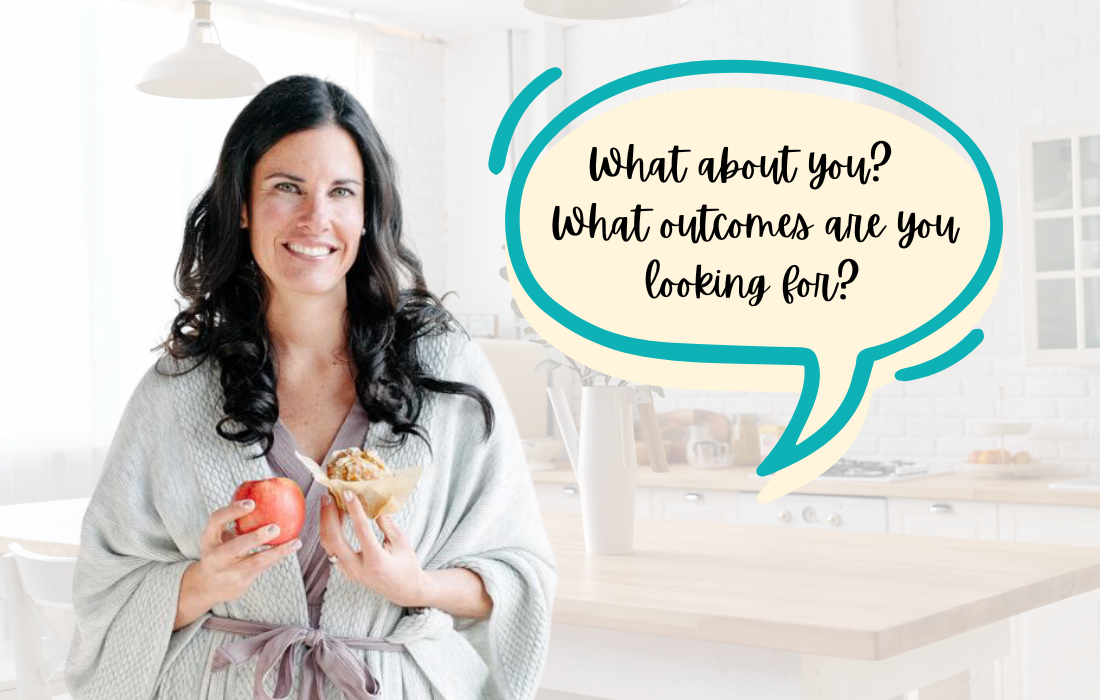 Benefits of Online Health Coaching vs In-Person Coaching
The benefits are similar to virtual vs in person, so it depends on what you're looking for!
Meeting with someone online is the best for convenience, flexibility, ease of scheduling and limitless options when picking someone you want to work with. In person may feel more personal, since you are physically meeting with that person. Both offer the same benefits long term, so you can't go wrong with either!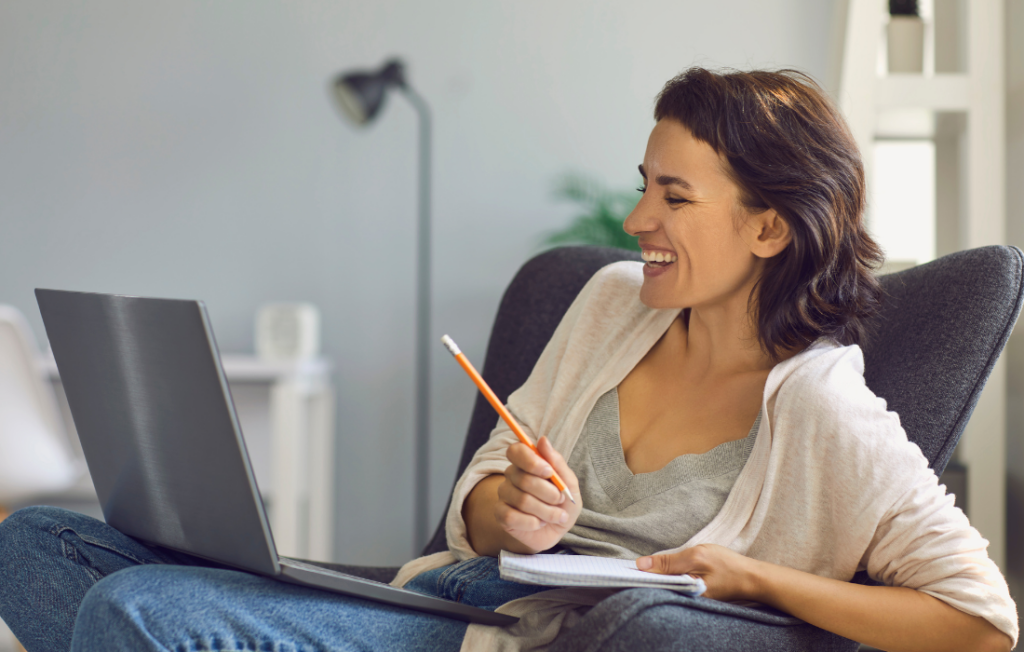 Services Provided by Health Coaches
There are now coaches that specialize in all different topics and provide all different types of services!
Some coaches offer services for a longer period of time, typically 3, 6, or 12 month increments. This is helpful when deeper work is required for struggles that are deeply ingrained. Other coaches offer group programs, individual sessions, meal prep instruction, Ayurveda lessons, and everything in between!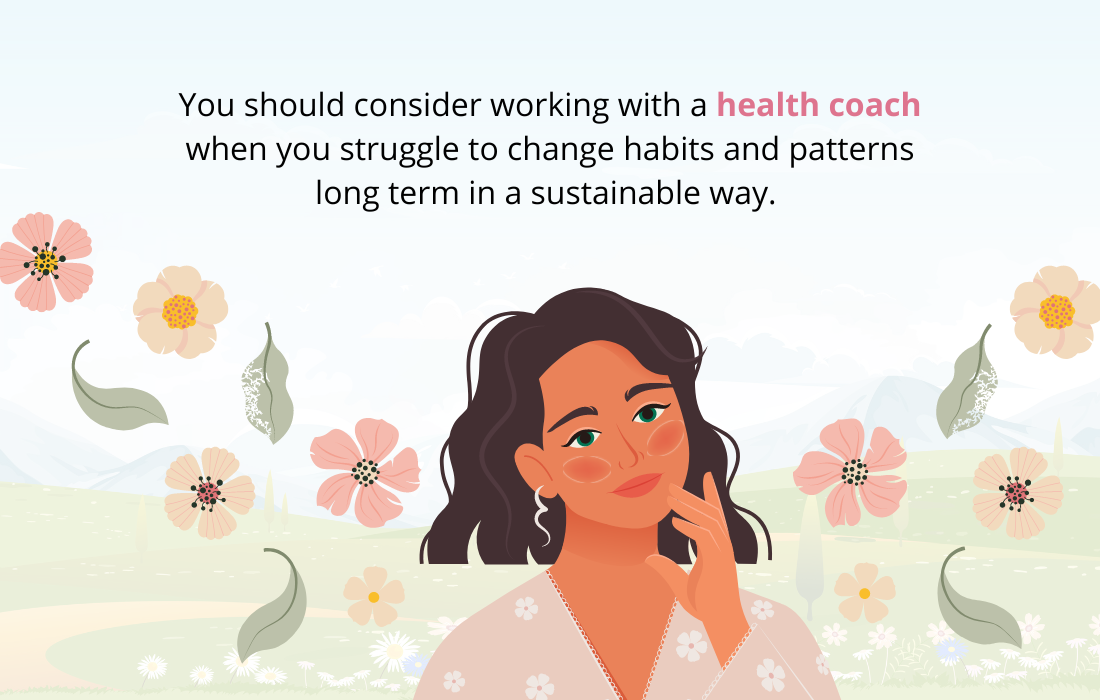 The Role of a Health Coach
The role of a coach is to understand your struggles and goals, support you in reaching them, and empower you to be your own expert.
When I work with women 1:1, I always tell them that my intention is to guide you into learning what works for you and your body. I can point, suggest, guide, make recommendations and help, but at the end of the day, I meet you where you are and help you learn to hear the wisdom of your own body in food and in life!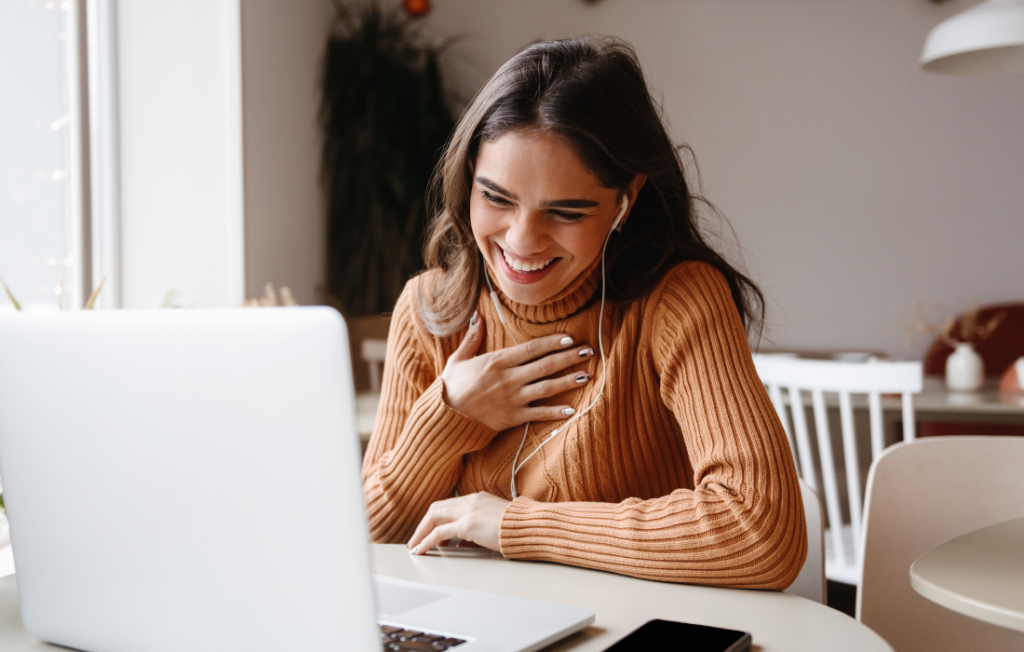 How to Choose the Right Health Coach for You
I'm all about "feeling" your way into who is right for you!
When I hired a business coach, I followed a few people online to get a feel for their writing and speaking style, how they approached business, and what kind of vibe they had. It was immensely helpful in reaching out, having a discovery call and then hiring someone.
Most people in the health world have content (a blog, podcast or YouTube channel) for you to get to know them a little better.
See who you like, what style resonates with you and then reach out to learn more. A quick chat can help you determine whether it's a good fit. Also some people know right away–you can get a sense of "this is the person that I want to work with."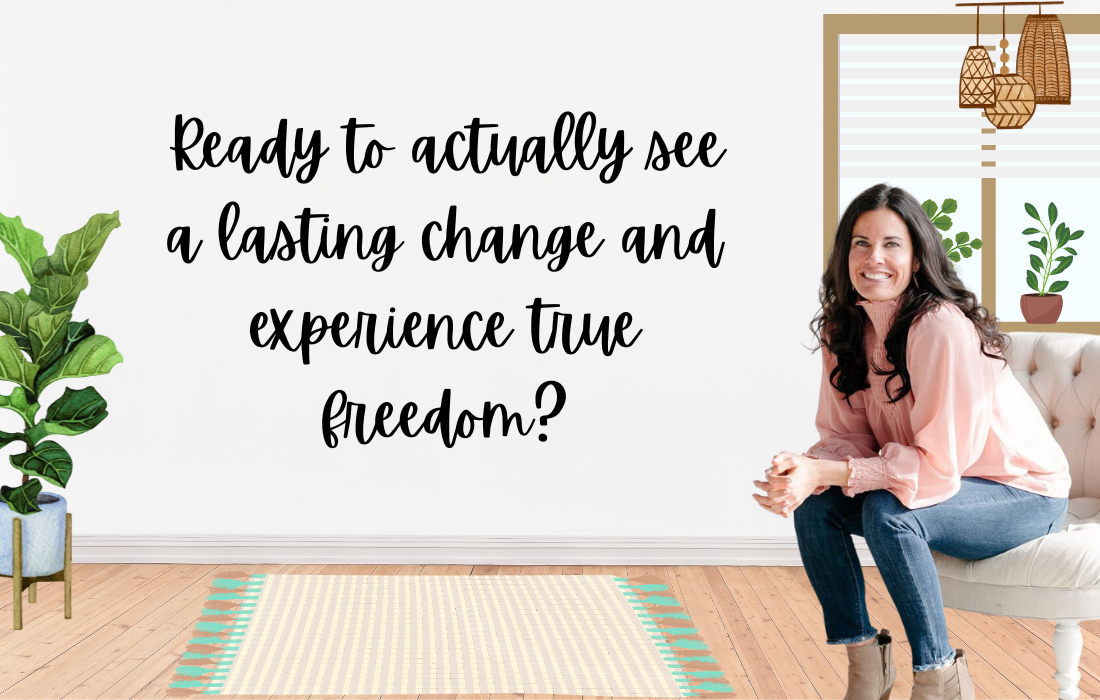 Specializations in Health Coaching
There are a wide variety of specializations in health coaching.
Health coaching has exploded in recent years as western medicine has realized many people need support with behavioral and habit changes.
I've known coaches who specialize in everything from chronic conditions, diabetes management, smoking cessation, and prenatal support to bodybuilding, hormonal support and binge/emotional eating (my specialty).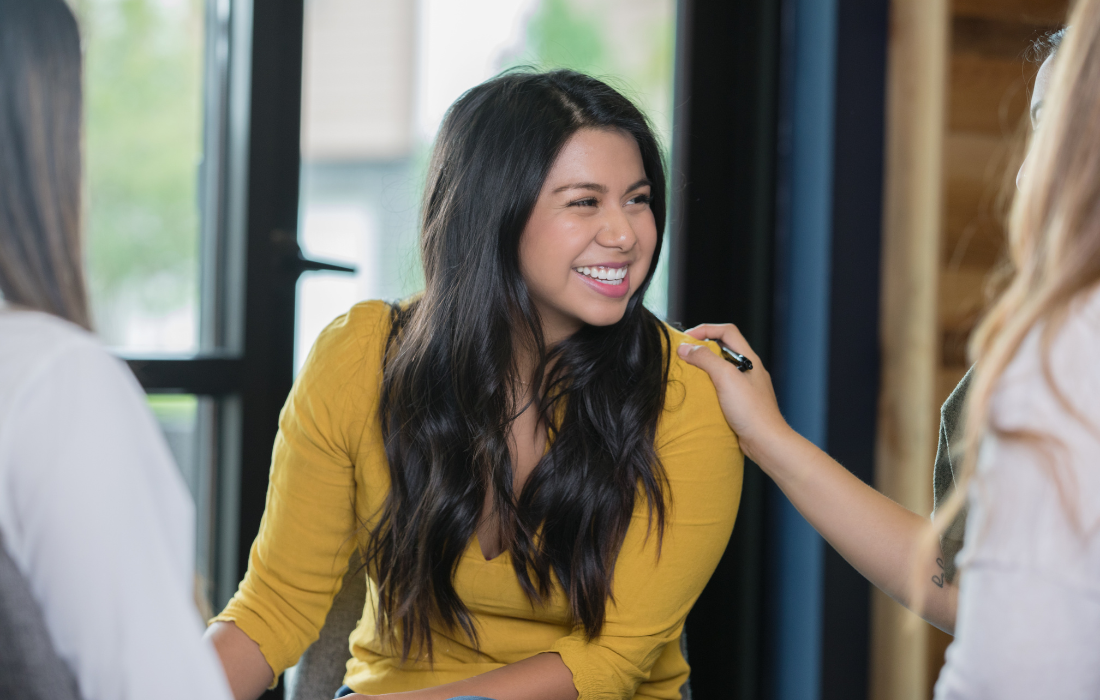 Do You Need Help with Emotional Eating or Binge Eating?
It took me a long time to admit I needed help.
I was a successful, independent woman and convinced myself that food was something I could figure out myself.
But realizing I needed additional support was a turning point in my journey!
It's okay to admit you need extra support; binge eating and emotional eating can be very complex topics. If you've been battling food for years (or decades), do some soul-searching and reflection to see if getting additional support feels beneficial.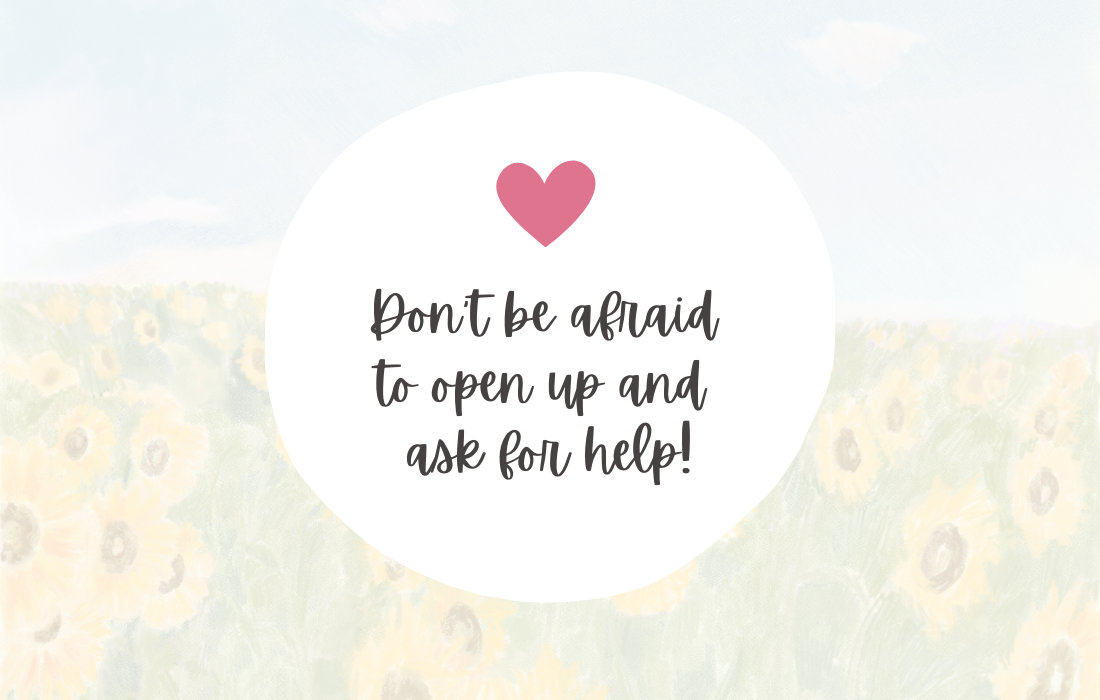 Holistic Weight Loss Coaching without Yo-Yo Dieting
Oftentimes, the topic of weight loss is very one-dimensional.
It's approached solely from a diet standpoint, and often feels restrictive and unsustainable. When weight loss is focused on food only, we get to the end and then think "well, now what?" We aren't able to continue with something that feels restrictive and rigid.
Holistic weight loss, on the other hand, is a concept that frees you from the prison of yo-yo dieting and allows you to discover a way of eating that works for you long term.
It takes your whole person into consideration (physical, mental, emotional and spiritual) and understands that we're not just robots following a food plan. Holistic weight loss coaching can help to approach the topic of rebalancing your weight in an entirely new way.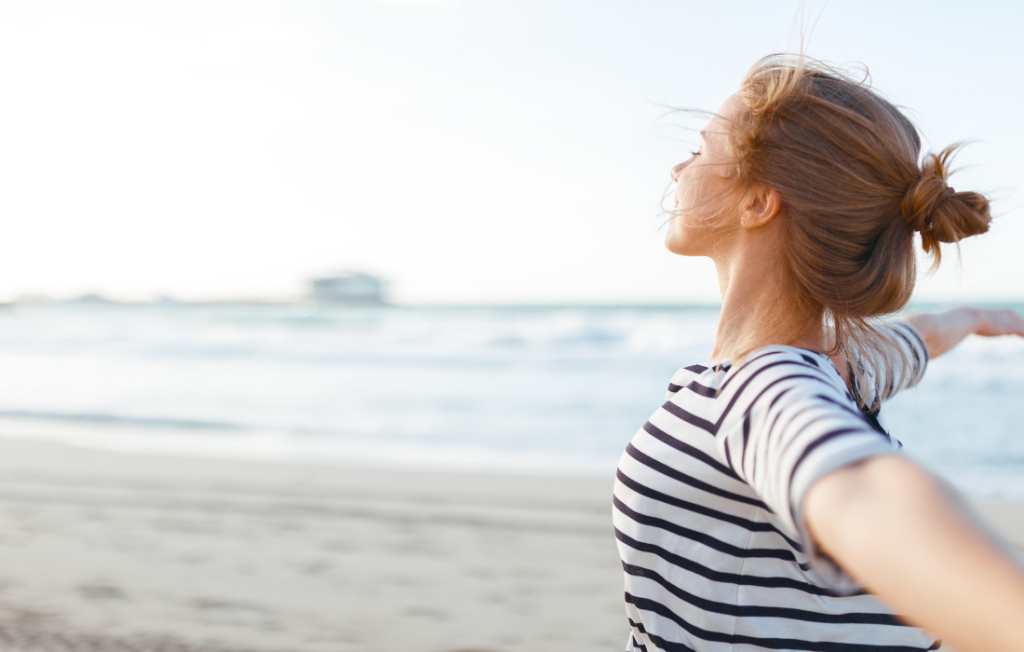 What Your Health Coach Can't Do
A health coach doesn't tell you exactly what to do.
A nutritionist or dietician may give you a prescribed food plan or food recommendations to follow, whereas a coach will work with you to figure out what works best for you and your body. A coach will ask guided questions to help you discover a way of eating that is enjoyable and sustainable for you to meet your goals. Although it's tempting to just want to "follow the exact formula", real lasting change comes from learning what works for you and your body!
Additionally, a health coach doesn't diagnose underlying health issues.
In my practice, there are times when I've made a recommendation for the person I'm working with to get their hormones checked or their gut health looked at, but this isn't a diagnosis. It's based on my knowledge of health issues and experience and always a recommendation rather than a directive.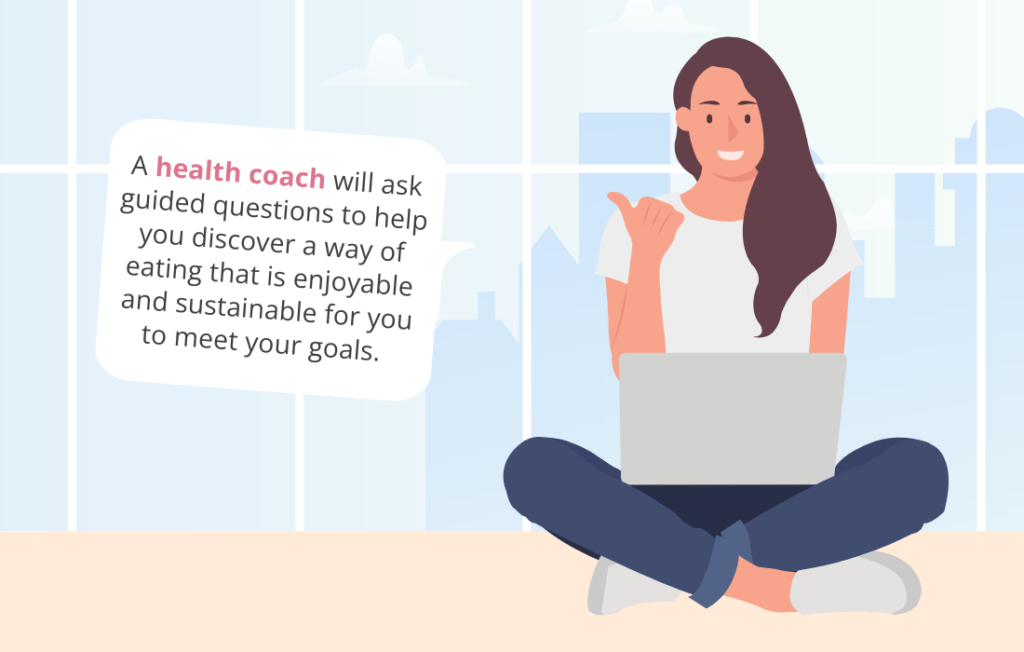 Should You Work with a Health Coach?
It depends on what your goals are.
Coaching is very different from traditional therapy and may frustrate some people.
A few years ago, I worked at a company coaching their employees in general health and wellness goals like losing weight, exercising, stopping emotional eating, getting better sleep and eating healthier were the most common. I did about 12 coaching calls a day that were 20-30 minutes long. Because I had to follow "coaching protocol" (meaning I couldn't give advice), many people got very frustrated.
Some people like being told what to do.
Straight coaching is very much a guided question and reflection session. I like to combine coaching with behavioural change and my nutrition background, plus my life experience in healing my own binge/restrict cycle to create a unique style of coaching!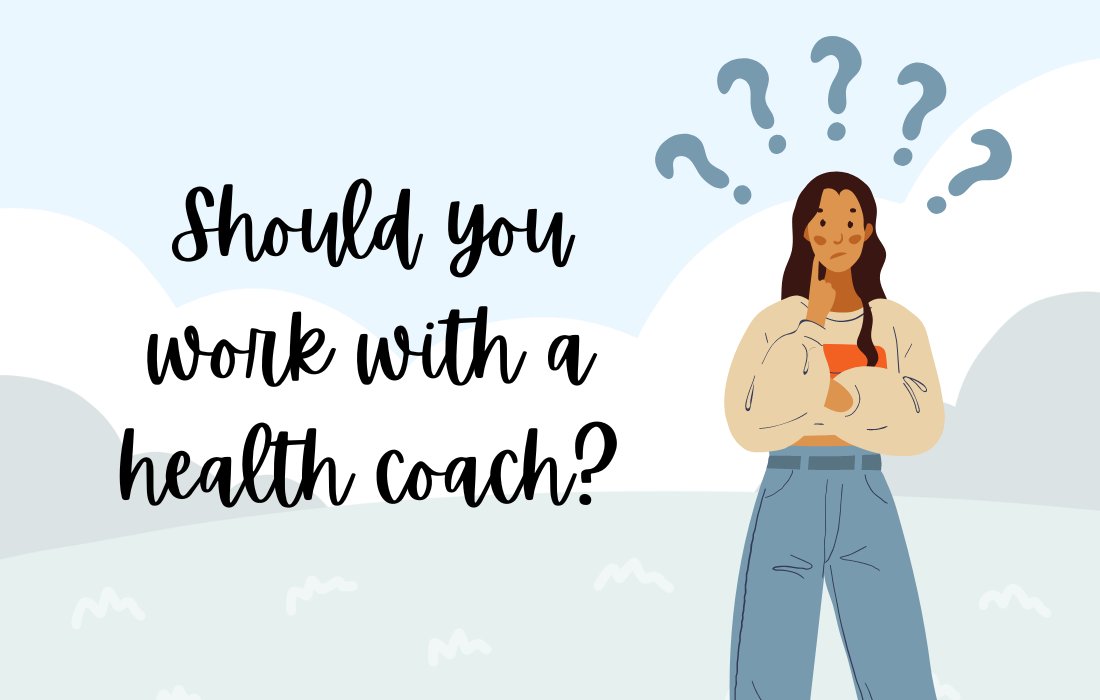 Questions to Ask a Potential Health Coach
Here are some of my favorite questions I've been asked over the years!
You can ask these questions to a potential health coach to see if the answers make you feel comfortable with moving forward.

Will I lose weight working with you?
What can I expect as far as support between sessions?
What ages have you worked with?
What types of problems have you helped people with?
Do you ever tell me what to eat?
How do you approach a struggle that I can't seem to get over?
What is your background?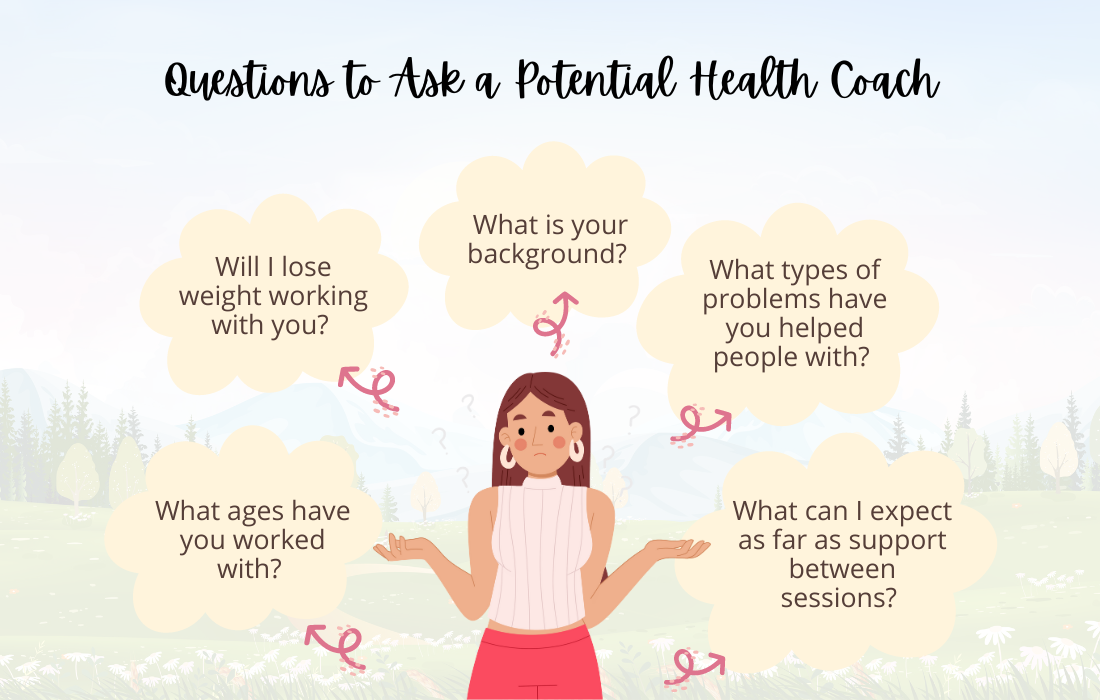 Work with an Emotional Eating Health Coach and Holistic Nutritionist
If you're curious about coaching, please book a 20 minute discovery call with me.
My coaching approach is unique in that I have not only lived through the food battle in my own life. I spent 13+ years in the diet/binge cycle and battled emotional eating and weight issues, but I've worked now with thousands of women over the last 9 years to understand what works, what doesn't, and how to help you sift through the mind chaos to identify what you need and how to can break old habits to "get" what it is you want.
Schedule a 20-minute Call with Jenn
Common Questions about Health and Wellness Coaches
Why are health coaches important?
Health coaches are important in helping people with lasting behavioral and habit changes.
What is the difference between a health coach, a life coach, and a wellness coach?
The difference between a health coach, life coach and wellness coach is as follows: a health coach usually focuses on health related matters, a life coach focuses on life related goals like career, relationships, relationships, etc.
Who should consider working with a health coach?
You should consider working with a health coach when you struggle to change habits and patterns long term in a sustainable way.
What is the difference between a health coach and a nutritionist?
The difference between a health coach and a nutritionist is usually in the type of advice they give; a nutritionist may give specific food plans and nutrition support, whereas a coach typically guides and empowers you to be your own expert on what works for you.
What does a health coach do?
A health coach works to understand your struggles and goals, support you in overcoming or reaching them, and empower you to be your own expert
How does wellness coaching or health coaching work?
Health and wellness coaching works in a way that most other modalities don't; it's designed to help you overcome your own struggles and learn how to listen to and trust yourself as your own expert.
More Articles About Coaching and Holistic Weight Loss
⚪ Intuitive Eating and Food Coaching
⚪ 7 Myths of Weight Loss
⚪ If You're Not Dieting, How Will You Lose Weight?
⚪ Holistic Weight Loss: Does It ACTUALLY Work?
⚪ How to Get Off the Diet Roller Coaster
Get the Normal Eater's Newsletter
Join 8000+ women who are overcoming overeating, binge eating, and breaking up with dieting forever. Get Jenn's inspiring and actionable weekly newsletter with the latest posts, podcasts, and tips on how to love your body, find food freedom, and lose weight holistically.
Get the Normal Eater's Newsletter
Work with an Emotional Eating & Holistic Nutrition Coach
Overcome Bingeing and Emotional Eating, and Break Up with Yo-yo Dieting
Working with an emotional eating coach and holistic nutritionist can help you get free from the frustrating binge and restrict cycle and stop yo-yo dieting.
You don't have to be obsessed with food or have a million rules around eating to find your natural weight and learn to love your body. Ready to actually see a lasting change and experience true freedom?
Schedule a 20-minute Call with Jenn
About the Author:
Jenn Hand has been helping women like you become normal eaters since 2015.
She's worked with thousands of women, helping them to balance their bodies, end bingeing, stop obsessing over food, and start feeling amazing again. As a board-certified health coach and holistic nutritionist, Jenn knows how to support you in making real positive changes that last.
Her articles have been published on Mind Body Green, Tiny Buddha, Thrive Global and other local and global media platforms. She's the author of How to Be a Normal Eater and the creator of The Normal Eater's Club program. Listen to Jenn's advice and tips on the Cake Doesn't Count Podcast, or read more of her articles for free on the Food Freedom Blog.
Learn more about coaching with Jenn >>