Do you feel like no matter what you do, your weight loss doesn't stick long term?
Have you tried to everything to lose weight, been successful, but don't know how else to do it without dieting?
Do you want to be able to enjoy food AND be at a weight you're happy with?
Are you frustrated with information overload on what's "right" to eat for weight loss?
Do you yearn to be at a comfortable weight without having to restrict or cut out certain foods to get there?
Here's What Most People Don't Understand
The way to our body's natural weight is not what we're taught.
How do you lose weight & keep it off for the long haul?
Really…think about it.
What is the way to shed pounds?
Here's what we think we know about losing weight:
Eat less
Cut out carbs
Don't eat sugar
Exercise more
Do Keto, Intermittent Fasting or (fill in the blank)
Eat only the "good foods"
And now let's ask the more important question…
Do these things work long term?
Can we sustain these habits so that the weight loss is forever?
A big resounding NO.
We can't cut out carbs, never eat sugar and eat restrictively for the long haul.
The weight loss formula we were taught is broken.
Did you know that in 2021, the global market spent $256 billion dollars on weight loss?
If our weight loss formula worked, 75% of Americans wouldn't struggle with weight.
We need a drastically different approach to weight loss.
We need something inclusive, something that address the physical, mental and emotional aspects of weight.
Welcome to your new (sustainable) way of approaching food & weight! 
Welcome to the 6 Week Summer Slim Down. 
Here's how the 6 weeks will go:
We will kickoff in person at Restore Health on Tuesday, May 24th from 5:30-6:30pm with a workshop (we will take body measurements, too).
(*This will be recorded for those who can't make it)
Every Wednesday, we will have a virtual Zoom call (a mini-workshop, Q & A, etc) with detailed instructions about what to focus on and "do" each week.
We will meet one final time at Restore Health on Tuesday, June 28th from 5:30pm-6:30pm for a wrap up and body measurements.
There will be a food awareness journal check in with me (via email) weekly to help you get unstuck.
What You Get
You'll get six weekly workshops created to walk you through your holistic weight loss journey, body measurements, a Facebook community for those who join, accountability, weekly food journal check ins, weekly assignments and more!
Including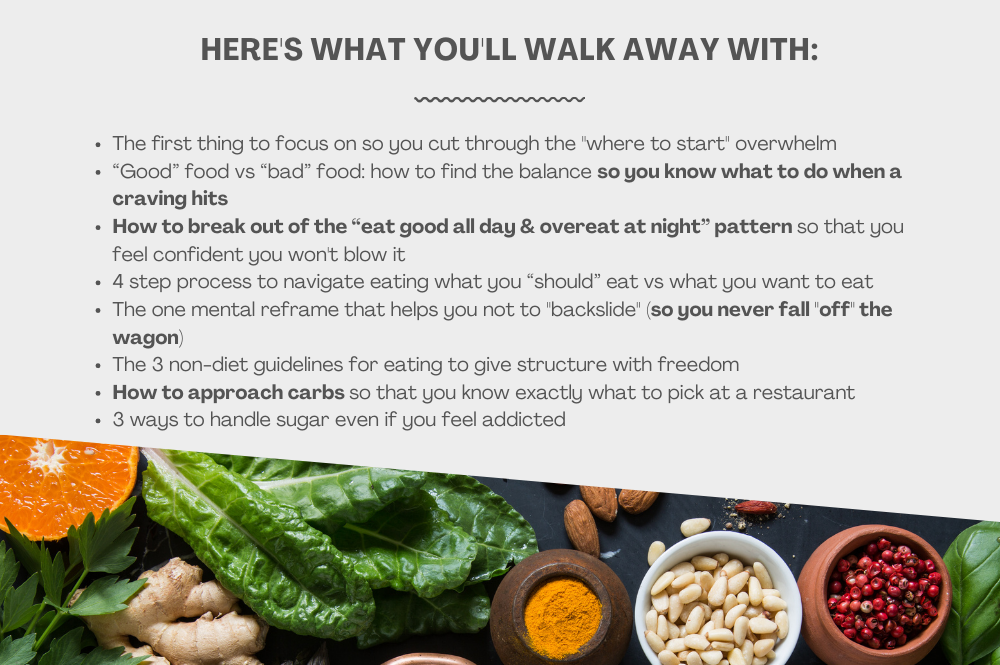 Plus These Bonuses!
Value: $1359 (!)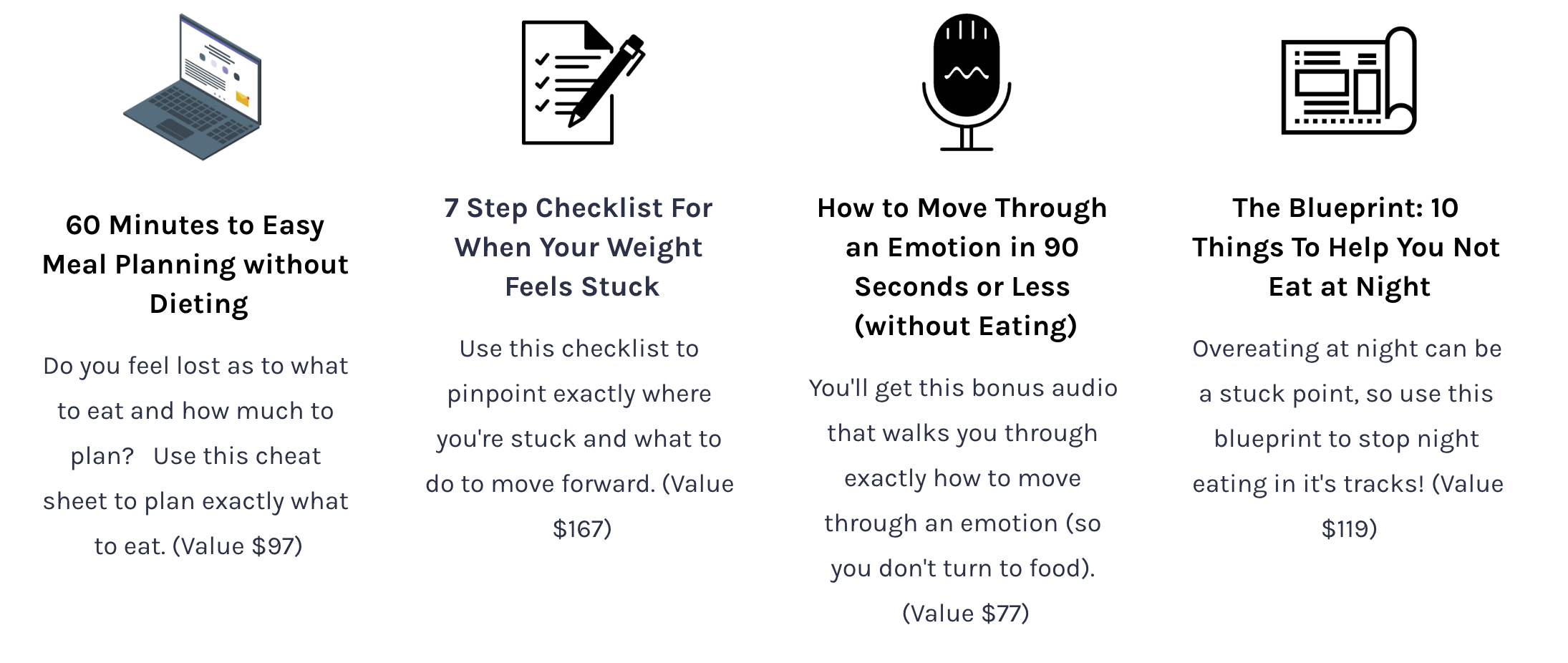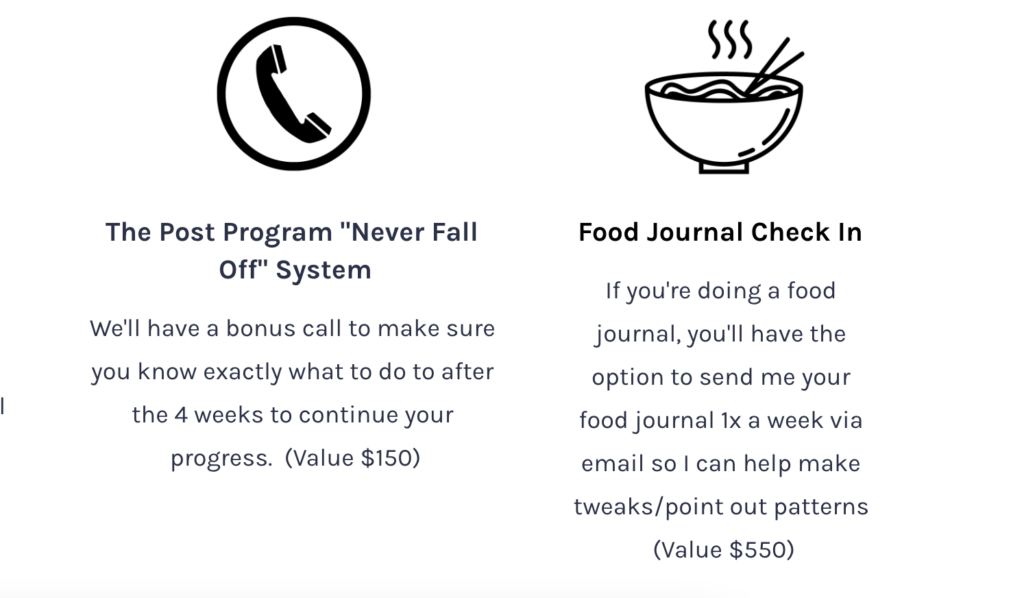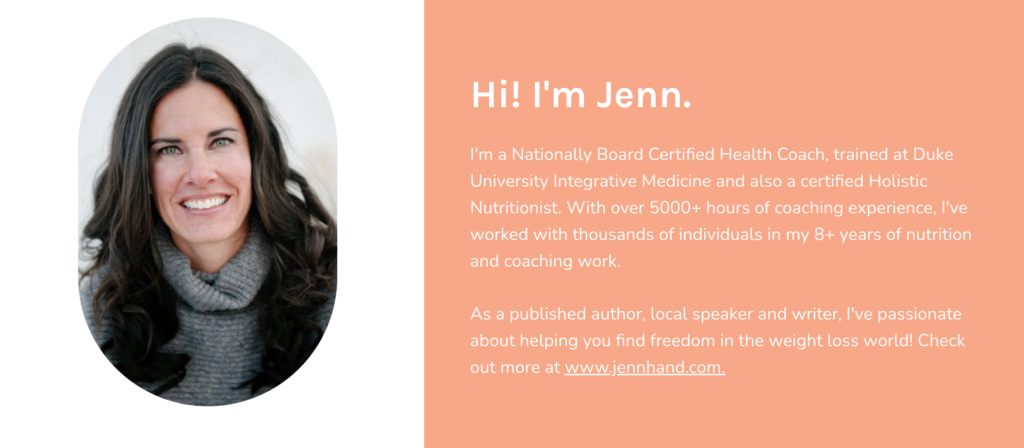 FAQ's
What if I've already tried everything to lose weight?
Most of the things we try to lose weight involve the physical–we follow a food plan to "get" a result. We get to the end and think "well, now what?!". This integrates ALL parts of the weight loss–it's a holistic approach (physical, mental, emotional).
Is this program suited for vegetarian/vegan style of eating?
Yes, indeed. This will apply to any preference you already have around food and/or food allergies/sensitivities. The way of eating I teach allows room for making it unique to you 🙂
How much work will this require?
This program requires awareness–not work. Yes, you will take a look at your food. I'll ask you to food journal (not in a diet-y way, but to pay more attention). We will look at mindset and beliefs. You'll start to think about food but in a different way–the way of being aware of patterns and habits so you can shift out of them to what better serves you.
Can you guarantee specific results?
No one can guarantee weight loss. Why? Because here is the short list of all the things that impact weight: metabolism, genetics, stress, hormones, imbalances, seasons, exercise, and of course, food. No one can control the exact outcome. That being said, these are the exact principles, concepts and strategies I've used with hundreds of clients that have worked for them (and me).
Will this feel diet-y?
Nope 🙂 There will be no cutting out, no weighing and measuring, and no counting. I will suggest guidance on keeping a food journal to be able to see patterns and where your stuck points are.
You will get guidance on "how" to eat, what to focus on, how to handle cravings, what satisfaction means in terms of sustainable eating, and so much more!
How is this different from other programs?
Most weight loss programs focus on restriction, cutting out, deprivation and willpower. We are flipping the script on the diet and weight loss industry. You will learn how to eat for YOUR body. You will be satisfied. You will be able to live, go out to eat, not cancel social obligations because you're on a diet and can't eat what others are eating.
This is a holistic approach, where you'll learn the balance of eating healthy nutritious food in a way that is sustainable for the long term.
Ready to Dive in?
The program is now open!
We start (in person kickoff!) on Tuesday, May 24th, 5:30-6:30pm at 2022 at Restore Health & Beauty!
(3553 Clydesdale Pkwy., Suite 230
Loveland, Colorado, 80538)
The inaugural rate is $297 (plus bonuses valuing $1359!)
**Minimum 5 participants to run the program, sign ups close Sunday, 5/22 at 8 pm

Other questions? Email me at info@jennhand.com